Decades of Experience
We have decades of experience with the fitting of Television antennas.
Internal & External
We can fit either internal loft aerials or outdoor aerials depending on you.
Quality Equipment
We only use the best quality equipment for our installs & repairs.
Quality Service with a
Guarantee
In the industry of digital TV, you need a digital TV aerial installer who can get your aerial/satellite dish installed in a snap with expert precision. That's where we come in. TV Aerials Stockport is the leading provider in TV Aerial installation Stockport residents can depend on for fast and reliable service.
Our aerial installers are vastly experienced, knowledgeable, and possess the needed expertise to get your aerials installed while maintaining industry standards. Regardless of service, whether it's Freeview antenna installation or Freesat aerial installation, we've got you covered. For several years, Stockport residents have chosen us to help them with their aerial installations because of our dedication to providing dependable service with top-of-the-line customer service.
From Freesat Installation to Sky TV installation, we've got what it takes to get your aerial and satellite dish installed, powered up and running flawlessly, allowing you the enjoyment of having a wide array of entertainment in your home.
If you're ready to get your installation done with no headaches and no hassle, with only top-notch results, give us a call today. It'll be the best experience you've had with a local TV aerial engineer, guaranteed.
TV Aerial Installation
Our TV aerial installations are best-in-class when it comes to reliablility and service. Enjoy a multitude of enetertainment available at your fingertips with no downtime and little-to-no signal loss.
Satellite & Freesat Installation & Repair
Enjoy all great options of watching streaming media and digital TV without paying the contract price. Our team are fully certified Freesat installation experts, and we're the #1 installer in the industry. Give us a call today.
TV Aerial Repairs
If your existing aerials are giving you problems, don't immediately opt for a new one; we may be able to get it fixed! Our aerial repairs cover every satellite dish and serial system in the industry, and our aerial engineers are experts in repair.
Sky TV Installation & Repair
Get your premium Sky TV service up and running today with our Sky TV installation & repairs. All of our aerial technicians are fully trained in Sky TV installations and repairs, following best-practices and Sky TV installation standards.
Efficient TV 
Aerial Repair
If you're experiencing signal loss or significant downtimes with your aerials or satellite dishes, don't rush to have them swapped out — they may be salvageable! Our expert aerial repair engineers are masters of aerial repair and have helped  save hundreds of pounds by negating new installations and having simple repairs instead.
Our aerial repair process utilizes our thorough diagnostic checklist, allowing us to rule out hardware failure and conduct satellite dish repairs that properly fix your system rather than installing a new one.
Our Aerial Diagnostic Process:
Test TV aerial alignment
Test internal & external cables for signal loss
Test/tune connected components (Sky TV & Freesat, Freeview)
Check all connected aerial & satellite points
Run thorough device tests to rule out hardware failure
Determine the cause of the problem
Deliver your aerial repair cost estimate
Before you decide to throw your aerial in the bin and have a new one put in place, give us a call. We'll conduct the most extensive check available and let you know what the best course of action is.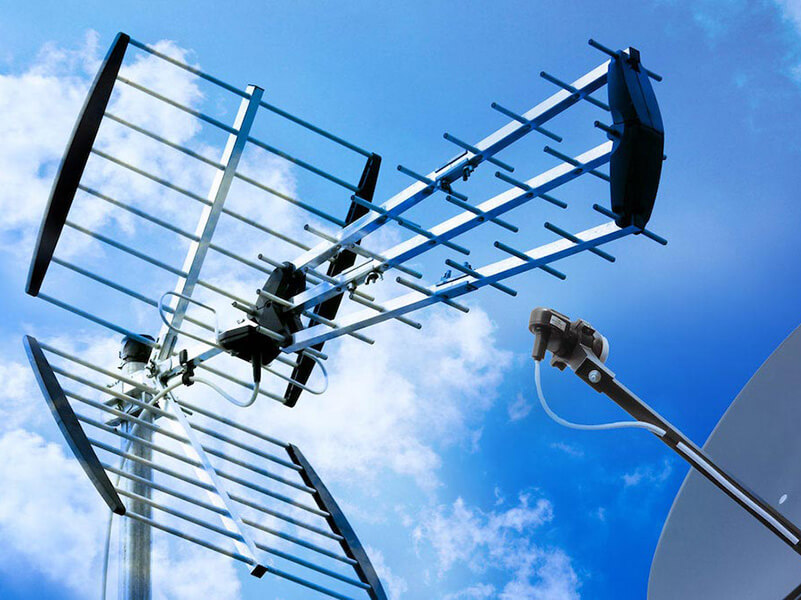 Certified Aerial Repairs
All of our aerial engineers and technicians are fully certified and trained in repairing every modern TV aerial system available today. Even if your aerials are a little dated, chances are we can get them fixed.
Best-In-Class Repairs
Our strict and thorough diagnostic process allows us to comprehensively examine your aerials and satellite dishes to determine the cause of the problem. We'll suggest the best course of action thereafter.
Customer Service First
Rather than suggest a new aerial installation straight away, we want to figure out what the issue is and recommend the best course of action. If we can save you money with a repair over installation, that's our goal.
It goes without saying that having a TV aerial installed or repaired brings forth a lot of questions from potential customers. As it should. When it comes to installing digital TV aerials, the process needs to be done with precision to ensure a strong signal and optimal picture quality. And, when you're having these devices installed, it's important to have questions. After all, you depend on your aerial and satellite service to hold up and provide optimal quality for your entertainment, you'd better make sure you're getting the best TV aerial service.
Having said that, we've spent decades in our industry answering all sorts of aerial installation and satellite installation/repair questions. There's no question too simple or too complex for us to answer. Take a look at our frequently asked questions regarding TV aerials.
If you happen to have a very specific question that you don't see answered here, feel free to contact us directly and we'll make sure we get your question answered as concisely as possible.
Why Does My TV Say 'No Signal'?
The most common cause for this is from a faulty aerial antenna or improper setup. The first step is to make sure your television is set to the correct TV input. If you've cycled through all the inputs on your television (usually a 'source' button) and the problem persists, give us a call. We can come out and troubleshoot the issue for you.
Do You Offer Same-Day Aerial Repairs?
Usually, we can get your aerial and TV antenna repair handled on the same day, schedule permitting. If you're suffering signal loss or severely downgrading video resolution, don't hesitate to get in touch with us. We'll get an aerial engineer over to your place ASAP to diagnose the problem and suggest the best course of action.
How Much Does Aerial Installation Cost?
Prices can vary depending on the requisites for setup, like roof pitch, house style, etc. However, aerial installations usually have a range of £90 to £200. The average of that range is often £121. In any event, we recommend you
contact us
for a direct and customised quote based on your current required setup.
Do You Handle Sky TV Installations/Repairs?
Yes. Our aerial engineers are proficient and possess expertise with
Sky TV Installation & Repairs
. We offer some of the most competitive quotes in the industry. And you won't have to worry about degraded picture quality or loss of signal with our Sky TV installations. Give us a call for your direct quote.
Can You Install/Repair Freesat?
Absolutely. Our team is the best Freesat installer & repair services. Our technicians are experts when it comes to Freesat, as it's one of our most requested services. contact us today for your free quote.
More often than not, people who buy a new TV ask themselves, "where can I find the best tv aerial installation near me?". We've got good news: you've just found it.. From our highly-trained team to our passion for providing top-of-the-line customer service, you'll be hard-pressed to find another aerial engineer who's better equipped than we are.
Our aerial installation & repair company is located at the Houldsworth Business & Arts Centre on Houldsworth Street, just at the crossroad of Rupert Street. We encourage you to reach out and contact us. Chances are we'll be able to come by and get your aerial or satellite dish up in no-time. We're all about helping customers quickly get back to ideal comfort when enjoying entertainment, and we don't want to hold you up for long.
Let's Get Started
Before you call every aerial installation and repair service, ask yourself this: are you looking for a 'good enough' installation/repair or are you seeking the absolute best service you could ask for? If it's quality you're after, you can't go wrong when you contact us for an aerial installation and repair quote.
With our team of TV aerial engineers and a drive for providing the absolute best results our industry has to offer, we're more than capable of getting your digital TV service up and running with no frills.
Get in touch with us today for your free quote. The quickest way to reach us is by phone. However, if you're unable to call, fill out our contact form. Just allow us adequate time to get you a response.