Free Freestat TV Quotes
We save your time by getting you no-cost, no obligation Freesat TV installation/repair quotes.
Freesat TV Installation
We're Freesat TV installation experts. Let us get you the proper installation for ideal viewing quality.
Freesat TV Repairs
Get your existing Freesat TV equipment repaired by the industry's best Freesat repair engineers.
Freesat TV Installation 
Stockport Relies On
When it comes to enjoying premium television without the binding of a premium contract, you can't go wrong with Freesat TV. And what better company to have install your Freesat satellite dish and receiver than us? Satellite dishes require precise setup and alignment to ensure optimal picture quality and strong signal. Don't risk future repair costs or re-alignments — talk to us, the Freesat TV installation experts.
For several years we've been the Freesat TV installation service Stockport relies on when they need their Freesat system installed with no headaches and no future problems. All of our aerial installation engineers possess a bounty of knowledge and utilize state-of-the-art tools and equipment to ensure your installation is reliable and stands the test of time.
If you're after the highest picture quality and a dependable signal, you can do no wrong by hiring us for your next Freesat installation. We'll swing by, give you an estimate, and get you on your way to enjoying premium television without the cost of a subscription contract.
Freesat TV Installation
Utilizing best practices and industry standards, our Freesat installers will get your satellite dish up and running in no-time, allowing you the pleasure of top-of-the-line satellite TV without spending fists of money every month for a premium service.
Freesat TV Repairs
If you've got an existing Freesat dish that's giving you problems, give us a call before tossing it in the bin. Chances are we'll be able to fix the problem with our thorough diagnostics and repair checklist.
Sometimes a loss of signal or drop in viewing quality isn't a dead giveaway that your Freesat dish needs to be tossed in the bin. There are several other factors that can cause these issues, and we're here to help you get it sorted.
With a thorough checklist and diagnostic process, our Freesat TV repairs are the most sought after in Stockport. It's because all of our engineers carry an unparalleled experience with a drive for customer service and results that can't be beaten.
When you need fast Freesat TV repair, your best option is to get in touch with us. We'll come by, assess the problem, and recommend the best course of action. Just remember: when you choose us, you're choosing Freesat repairmen that inject a quality of service into their work that is unmatched in this industry.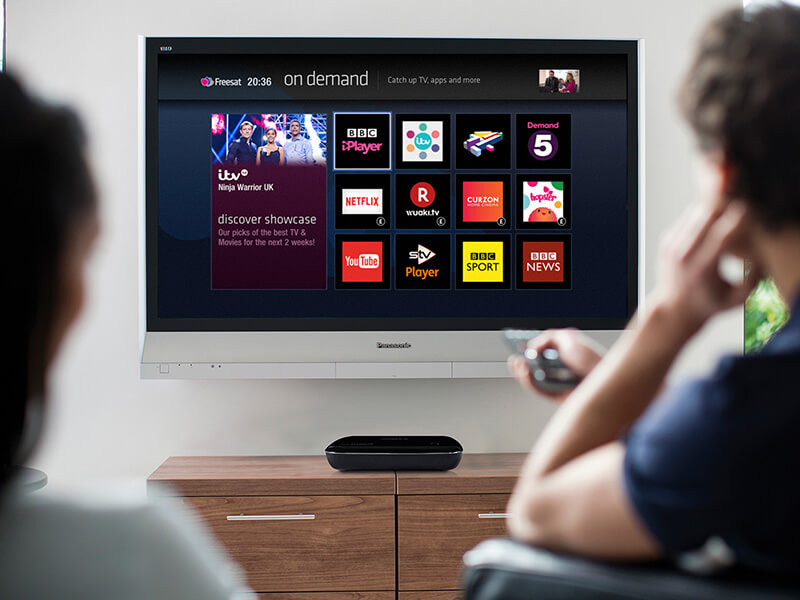 Same-Day Repairs
If you've got a Freesat dish or receiver going haywire, give us a call and we'll come by the same day to get it sorted out. After all, we know how important media and information is these days, and we don't want you to miss a beat.
Free Repair Quotes
You need not worry about paying a premium for a diagnostic. Our technicans can get you a no-cost Freesat TV repair estimate on-the-spot. Just contact us and we'll be on our way to restoring your Freesat service without any hangups.
Customer Service First
When everything is said and done, we're here to deliver the best customer service experience possible. All of our installers and engineers make it a mission to put your needs first, ensuring you receive the attention needed for your Freesat concerns.
Freesat is a pretty straightforward service. You hook up your dish and receiver, then enjoy free television without paying the premium of a monthly contract. However, customers often still have several questions before opting for Freesat. It's understandable. After all, you want to make sure your free TV viewing experience is the best option for you. Nonetheless, we're here to answer any questions you may have.
Take a look through our most frequently asked questions regarding Freesat TV installation and repair. If you have a specific question that you don't see listed, simply give us a call and we'll get you an answer straight away. You can rest assured knowing that all of our Freesat TV installers are of the highest caliber when it comes to service and installation/repair precision. 
Can I Use An Existing Satellite Dish For Freesat?
Most of the time, if you have an existing satellite dish, you can simply plug your Freesat box into the dish and get Freesat television for free. However, if you're unsure of how to do this or have no experience with satellite dishes, your best option is to call us for a quick set up.
Tinkering with satellite dishes can cause problems if you're inexperienced in doing so. Since dishes require precise positioning, knocking them out of alignment can be quite easy.
In any event, we recommend you contact us for help. We'll get your Freesat TV up and running in no-time.
Can I Use An Old Sky Dish To Receive Freesat?
More often than not, you can use your old Sky dish for your Freesat TV. Once Sky TV is cancelled and/or the viewing card is removed, you'll still be able to see only the available Freesat channels.
Why Does My Freesat Keep Losing Signal?
The most common cause of Freesat signal problems is often your connections to receivers. Be sure to check all of the connections first. If the problem persists, contact us and we'll come by to diagnose the problem. Sometimes a dish can have fault antenna connections or poor receiver connection. Regardless, we'll be able to fix the issue and get you back to viewing your Freesat TV ASAP.
Do You Handle Sky TV Installations/Repairs?
Yes. Our aerial engineers are proficient and possess expertise with
Sky TV Installation & Repairs
. We offer some of the most competitive quotes in the industry. And you won't have to worry about degraded picture quality or loss of signal with our Sky TV installations. Give us a call for your direct quote.
More often than not, people who want to enjoy Freesat viewing ask themselves, "where can I find the Freesat tv installer near me?". We've got good news: you've just found it. Our Freesat installation and repair is the leading service Stockport has to offer. From our highly-trained team to our passion for providing top-of-the-line customer service, you'll be hard-pressed to find another Freesat installer in Stockport who's better equipped than we are.
Our Freesat installation & repair company is located at the Houldsworth Business & Arts Centre on Houldsworth Street, just at the crossroad of Rupert Street. Even if you're just outside of Stockport, we encourage you to reach out and contact us. Chances are we'll be able to come by and get your Freesat system up in no-time. We're all about helping customers quickly get back to ideal comfort when enjoying entertainment, and we don't want to hold you up for long.
Let's Get Started
Whether you're on the fence about switching to a free-to-view service or are ready to make it happen now, we encourage you to contact us for your free estimate.
All of our Freesat installation and repair technicians are experts in the industry and can get your free TV viewing system up and running with no hassle.
We're all about providing excellent customer service, so get hold of us now for your free Freesat installation & repair quote. We'll make sure it's the best decision you've made.