Free Quotes
We save your time by getting you no-cost, no obligation Sky installation or repair quotes. Contact us today.
Sky Installation
We are independent Sky HD & Sky Q experts. Let us get you the proper set up for you in your home.
Sky Dish Repairs
Our Sky repairs will restore the quality of your picture and the signal of your service in almost no-time.
Here at TV Aerials Stockport, we do much more than just fit TV aerials. Since the launch of Sky in the UK we have been employed in all aspect of Sky installation and repairs for customers in the local area. We have years of experience in fixing all type of faults with sky systems including the HD and Q boxes and satellite dishes. All of the work we carry out comes with a minimum 12-month guarantee. Our customers can feel confident that any sky dish installation or satellite dish alignment for instance will be done properly first time.
A lot of the work we do is replacement sky dish and twin cable because the customers old dish has become old and corroded. The satellite dish including the LNB is out in all weathers year after year and the average lifespan tends to be around 8 – 10 years. Once the dish gets to corroded it is impossible to adjust if needed. It's then that we usually recommend a replacement.
We also can set up and update the Sky HD and Sky Q boxes if the customer has moved properties. We can repair or run new RG6 satellite cable if required. All of our engineers have a tonne of experience and are happy to find the most discreet location for any new sky dish installation. For any questions regarding sky, why not give us a call today. We're here to help.
Installation
Our Sky TV installers will help you bring a premium television viewing experience from the satellites right into the comfort of your home. Our technicians follow best practices and industry standards to ensure your Sky TV installation works with the best picture quality and the strongest signal possible.
Repairs
Whether you've got an old Sky TV dish that's giving you problems or are suffering from a drop in video quality, our Sky TV repair techs will come out to your home and get your service restored immediately, allowing you to get back to viewing your channels with the best possible quality.
Technology has advanced at a mind-boggling pace over the past few years. The ability to receive unheard-of picture quality and premium channels from a satellite dish at a moment's notice can make issues with your service seem all that more drastic. Thankfully, your Sky TV repairs don't need to be complicated. Let us make it easy.
Suffering from poor picture resolution or a lack of signal doesn't mean your service is poor. And by no means should you opt to ditch your dish because of a few hiccups. Your premium content viewing can be easily restored with a proper Sky TV repair.
All of our repair technicians follow a tried and true diagnostic procedure, allowing us to properly diagnose the issue and recommend the best course of action thereafter. Our engineers are fast, efficient, and friendly. But best of all, they're here to help you get back to enjoying the entertainment and media you love without any delay.
If you're in the market for the most reliable Sky TV repairs you could ask for, get in touch with us today. We'll make sure your service is back up and of the highest quality ASAP.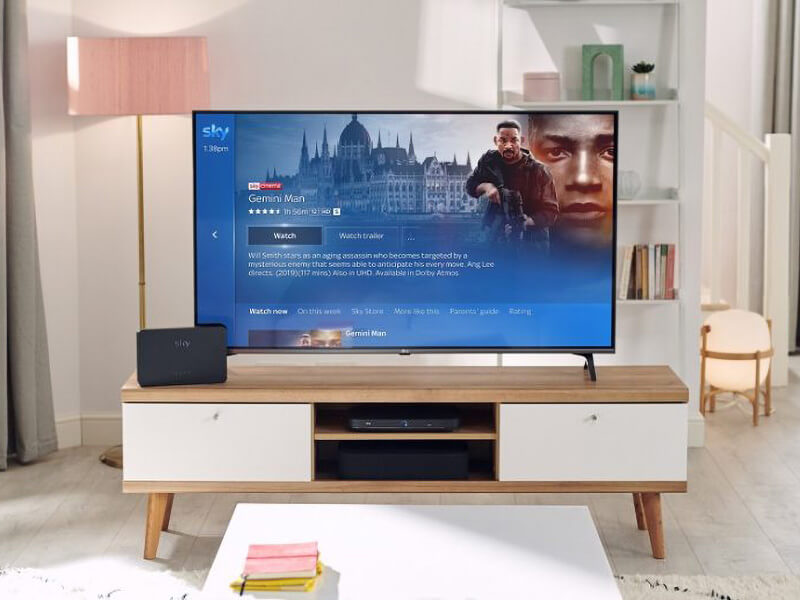 Same-Day Service
If you've got a Sky dish giving you headaches from loss of signal or poor picture quality, give us a call and we'll come by the same day to get it sorted out. After all, we know how important media and information is these days, and we don't want you to miss a beat.
Free Quotes
You need not worry about paying a premium for a diagnostic. Our technicans can get you a no-cost Sky TV repair estimate on-the-spot. Just contact us and we'll be on our way to restoring your Sky service without any hangups.
Customer Service First
When everything is said and done, we're here to deliver the best customer service experience possible. All of our installers and engineers make it a mission to put your needs first, ensuring you receive the attention needed for your Sky TV concerns.
Through the years of installing and repairing Sky TV systems, we've undoubtedly heard every single question in the book. From simple service questions to complicated installation requirement questions, we've got you covered no matter the spectrum of your inquiry.
Take a look at some of our most frequently asked Sky TV installation and repair questions. If you have a more specific (or general) question related to your Sky TV installation or repair, we recommend you contact us directly for an answer. All of our Sky TV technicians have no problem getting the details sorted out for you.
After all, you're looking into a premium television service. It's best you know all the ins and outs of the service, right? What's more, our techs don't employ hard-selling tactics: we take a problem-solving approach and we'll be able to direct you to the best course of action.
What Happens During Sky TV Installation?
For a standard Sky TV installation, our technicians will arrive at your home and assess the property for an ideal setup. We consider all the factors of your roof pitch and direction and give you the information you need to make a well-informed decision. We also recommend the best route for cable routing during the installation from your Sky dish to your Sky receiver.
How Long Does Sky TV Installation Take?
Having a Sky dish and receiver installed in your home takes around an hour. It's our goal to ensure we get your installation finished efficiently without sacrificing quality. This allows you to get to view your premium channels and entertainment without needing to attend to our technicians all day long.
Can My Sky Dish Replace My Old Dish?
Absolutely. Our service technicians are able to replace an old, rusty satellite dish and replace it with a brand-new Sky dish, ensuring you receive top-of-the-line picture quality and signal strength.
My TV Says I Have No Signal From Sky. Help!
Don't panic. This is often a very easily-solved problem. First, reset your box by unplugging its power cord for around 30 seconds. After that, ensure all your connections are tight and functioning. If you still have no signal after troubleshooting, give us a call. We'll get a technician to your house ASAP to properly diagnose the issue and recommend the best course of action.
Do You Also Do Freesat Installation & Repair?
Yes, our technicians also handle Freesat installation & repair. Freesat is a free TV alternative to premium services like Sky. Though you won't have access to as many channels and content as you would with a premium service.
More often than not, those who want to enjoy the premium service Sky TV offers to ask themselves, "where can I find the Sky TV installer near me?". We've got good news: you've just found it. Our Sky TV installation and repair is the leading service Stockport has to offer. From our highly-trained team to our passion for providing top-of-the-line customer service, you'll be hard-pressed to find another Sky TV installer in Stockport who's better equipped than we are.
Our Sky TV installation & repair company is located at the Houldsworth Business & Arts Centre on Houldsworth Street, just at the crossroad of Rupert Street. Even if you're just outside of Stockport, we encourage you to reach out and contact us. Chances are we'll be able to come by and get your Sky TV system up in no-time. We're all about helping customers quickly get back to ideal comfort when enjoying entertainment, and we don't want to hold you up for long.
Let's Get Started
Why wait? We can get your premium television experience up and running in no-time. Feel free to reach out to us for your free Sky TV installation or repair quote today.
You can have peace-of-mind knowing that all of our Sky TV install and repair techs are fully trained and certified in working with Sky TV systems, and we're here to ensure you receive only the best quality picture and signal.
Don't leave it up to Sky TV installers who want to charge an arm and a leg for your next installation. Leave it up to us, the pros who offer competitive quotes, and the best Sky TV installation Stockport has to offer.