Free TV Mounting Quotes
We provide free TV installation quotes. Just give us a call and we'll get you a price.
Expert Device Setup
All of our technicians are experts in setting up your entertainment devices.
Optimized Viewing
Ergonomically-friendly setups, ensuring proper posture and reduced viewing strain.
TV Wall Mounting 
Stockport Residents Trust
We've been the gold standard in TV wall mounting and television wall installation ever since it became the norm. Time after time, residents of Stockport rely on us for a mounted television and entertainment set up that they can rely on. Whether you're mounting a large flatscreen or a small one, there's no job we can't handle.
All of our Stockport TV installers possess decades of experience with entertainment system setups and configuration, ensuring you receive nothing less than the best viewing experience you could ask for. What's more, all of our expert technicians are fully trained and highly experienced with every type of wall bracket system and peripheral device setup available today.
Our TV wall mounting services cover everything you need to achieve a sleek look, minimalistic appearance, and optimal viewing conditions. At the end of the day, we're to enrich the way you watch TV.
If you're ready to experience an expert-quality solution with best-in-class customer service, give us a call today. We offer free quotes and our techs will get your TV installed with the highest efficiency.
Our TV 
 Wall Mounting Services
TV Wall Bracket Installation
We help with TV wall bracket installations. Our TV installers possess unparalleled years of experience with mounting televisions in homes, and we're masterfully experienced with every type of TV wall bracket on the market today.
Audio & Video Configuration
What goos is a mounted TV if if you can't enjoy your other entertainment, too? Our audio & video configuration service helps you get your speakers, soundbars, media devices, and other componenets setup and ready for use.
Peripheral Device Configuration
For those who need their WiFi devices and other external, wireless devices paired with their TV systems. Our team is highly experienced with hundreds of different device setups so you don't have to spend the time and deal with the hassle of doing it yourself.
In-Wall or External Cord Concealment
For those who want to maintain a minimal look and free up space. Our in-wall & cable concealment service keeps your viewing area free of cluttered cables and dangling wires.
Cable Organization & Management
Our cable organization & management service keeps all your existing device cables and cords neatly organized and free from tangles, thus reducing the risk of accidents and the need to de-clutter cables when it's time to move things around.
Optimal Viewing Setup
Our TV installation and wall mounting solutions properly display your television at the optimal viewing angles. This reduces strain on your neck and eyes, allowing you to enjoy your media and television without sacrificing long-term comfort.
Most Trusted Stockport
TV Wall Installation
When you hire our TV wall mounting technicians, you're not just hiring another handyman to come by and complete a routine task. You're opting for a quality of service that can't be beaten. You're choosing a TV wall mounting service Stockport residents trust to set their televisions up for an ideal viewing experience.
You can rest easy knowing that all of our technicians here at TV Aerials Stockport are fully trained, certified in every major brand, and are properly vetted. That's why we're the most trusted TV wall installation service Stockport has to offer. We put best-practices and customer needs at the top of our priority list. Don't trust just any television installation tech, go with the best. Go with us.
Your time is important. We get it. And we don't want to take up any more than we have to. Once you have our technicians come by, you'll experience one of the most efficient and straight-to-the-point services around. We're all about exceeding expectations and providing exceptional service. That's our promise to you. Get Quote Book Now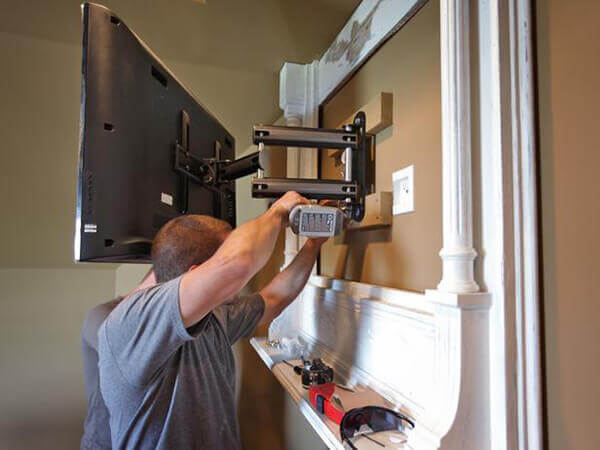 Licensed & Certified
Our TV wall mounting techs are fully licensed and certified to install every major brand television, new or old. We spend countless hours every month ensuring our team is sharp and maintains a drive to follow best-practices when installing tv wall mounting systems.
Top-Quality TV Mounting
You won't find a TV wall mount installer more efficient than us. That's because we employ a customer-first approach while maintaining a keen eye for detail. We're here to help you get your television mounted as quickly and effictively as possible.
TV Installation Experts
We're not just a couple of fellas with screwdrivers and hammers. We use top-of-line equipment to negate any risk of damage to your home and property, all while maintaining a quality that's of the highest degree. Don't leave your installation up to amateurs. Call us, the TV installation experts.
The Benefits Of
TV Wall Mounting
Mounting Your TV Saves Space
Unlike an entertainment centre or television stand, TV wall brackets take up very little room and discard the need for a TV stand or entertainment centre setup. This can save you several meters of space and create a clutter-free living space.
Mounted TVs Are Better For Your Body
Mounted televisions, when properly installed, aren't just set up at a random position. They're positioned to be optimal for your physical health. Utilizing the proper viewing angles and distance from your sofa or chairs, your television will be mounted in a position that promotes comfortable viewing without the need for extra muscle use in your eyes and neck, helping you maintain a comfortable and ergonomically-correct viewing position.
Mounted TVs Reduce Accidents
Once the television is mounted, and the cables and cords have been properly concealed or organized, the chance of knocking over the television from an accident, such as bumping into it or tripping over cords, is reduced to nearly 0. Mounted televisions provide a clean living area and will improve the safety of your viewing space.
Modern TVs Are Made To Be Wall Mounted
Every modern television released these days (usually) comes with a wall bracket for mounting and installation. If it doesn't, it is usually always manufactured with the proper indentations and slots on the back panel for a bracket system. Why not use your TV the way it was meant to be?
Mounting Your TV Looks Better
This might be subjective but, when you reduce the need for extra surfaces in your living area, the room immediately looks bigger. A mounted television doesn't only save space, it creates a sleek, modern, and minimal look that just looks nice.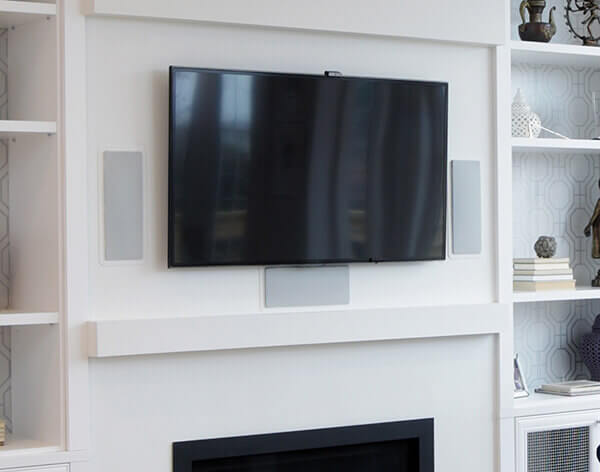 Got TV Mounting
Questions?
TV wall mounting is pretty straight-forward. However, you may have some very specific questions or wonder how our technicians handle these jobs. Nevertheless, we've created a list of our most frequently asked TV wall mounting questions. These should answer any of those thoughts that you absolutely need an answer to. Take some time to read through them.
If you have a specific question that you don't see answered here, simply reach out and contact us. Our TV installers have completed hundreds upon hundreds of TV installation jobs. We've answered virtually every question there is about the service, and we have the expertise to handle any situation you may presently have.
Not sure if a TV wall installation is right for you? No worries. Get hold of us and we can drop by and inspect the room before giving you an estimate. Our #1 priority is your satisfaction. So you can rest assured knowing that if your viewing area isn't safe or ideal for wall mounting, we'll be the first to let you know. What's more, we're more than happy to give a consultation on the best area to mount a television in your home.
Will My Wall Mount Hold My TV?
Since televisions come in several different sizes and styles, there are often different weights to the television. Utilizing the proper mounting system that's designed to withstand the burden of the TV's weight will allow your TV to be safely mounted. Once it's properly mounted and installed there is no risk of it coming down.
How Long Will It Take To Mount My TV?
All of our technicians are trained to be as efficient as possible with our TV mounting installations. Depending on the weight, size, and location of where the TV is to be mounted, you can expect us to be in and out in no-time. We're all about getting you set up and ready to go without taking up your entire afternoon. Expect us to be at your residence for anywhere between twenty minutes to an hour. This is a quarter of the time it takes the average person mounting a television themselves. So before you take the DIY approach and break out your toolbox, let us come by and save you the time and hassle.
Cost Of Mounting A TV To The Wall?
You can expect an average cost of around £55 to £110. However, because every situation (TV size, room size/accessibility, bracket needed, etc.) is different, the price may vary. If you're looking for a free quote, just give us a call and tell us the size and make of your TV. We'll be able to get you a direct quote over the phone.
Is it worth wall mounting a TV?
There are several benefits of having a TV wall mounted. For starters, a mounted television saves up to 30% more space, as you will likely not have a need for a TV stand. Second, TV wall mounting is a great styling addition to any home, tying the room together with a sleek, minimalist appearance. One of the biggest benefits, however, is wall-mounted TVs allow you to adjust the position of your viewing, making them more posture-friendly, reducing the need to keep your neck in unnatural positions for viewing the television. What's more, wall-mounted TVs pose less risk of being damaged, as you won't have to worry about accidents such as children accidentally knocking them over.
Do I Need Anything For TV Wall Mounting?
If you're looking to speed up the process, we ask that you have your TV wall bracket (if you don't have one, we'll get you one) and any peripheral devices and cables handy. This will help us get in and out quickly, allowing you to enjoy your new entertainment centre set up as soon as possible.
However, if you're not in possession of a wall bracket and don't have the time to set aside your devices just let us know. We can handle it all for you with no problem.
More often than not, people who buy a new TV ask themselves, "where can I find the best TV wall installation near me?". We've got good news for you, inquisitive one: you've just found it. TV Aerials Stockport is the leading TV wall mount installation service Stockport has to offer. From our highly-trained team to our passion for providing top-of-the-line customer service, you'll be hard-pressed to find another TV mounting service in Stockport who's better equipped than we are.
Our TV wall mounting company is located at the Houldsworth Business & Arts Centre on Houldsworth Street, just at the crossroad of Rupert Street. Even if you're just outside of Stockport, we encourage you to reach out and contact us. Chances are we'll be able to come by and get your TV up in no-time. We're all about helping customers quickly get back to ideal comfort when enjoying entertainment, and we don't want to hold you up for long. 
Let's Get Started
Ready to get started with your TV wall mounting installation? The best way to get a direct quote from us is by telephone. However, if time isn't a pressing issue, feel free to send your request for a quote using our estimate form.
Maybe you're on the fence and aren't sure if TV mounting is for you. No worries. You can always send us a general question, too. Again, though, the best way to reach us is by phone. Our goal is to save you time, so reach out to us today for a fast & free quote.